*Electrical surges, also called power surges occur almost daily in most homes. Depending on the source of the electric surges and type of appliances in the home, the electrical surges may or may not cause any damage.
What is an electrical surge? An electrical surge is a destructive disturbance to the normal electric delivery to a home. Typically, homes receive voltage in an oscillating pattern, from a low of zero volts to a high of 169 volts. Electrical surges cause an increase in the voltage. The increase in voltage is usually only a few hundred volts. However, sometimes the voltage increases to a damaging level of several thousand volts. The brief spike of increased voltage, or electrical surge lasts only a few millionths of a second.
What causes an electrical surge? Small electrical surges happen everyday. Certain appliances, such as air conditioners and refrigerators, cause small spikes in voltage when they cycle on and off. Short-circuits in home wiring also cause electric surges. Electric surges may occur when the electric company performs power grid switching or when and animal touches two power lines at the same time. Accidents involving power poles or power lines, usually as the result of bad weather conditions, can result in damaging power surges. Lightning is responsible for most damaging electric surges, as a lighting strike near a home can send excess voltage through the ground and into a home's electrical service line.
What is the damage? An electrical surge can cause an arc of electrical current inside an appliance. The arc creates heat than can damage the circuitry within the appliance. The arc can get so hot that is starts a fire. The higher the voltage increase, the higher the probability of appliance damage. However, even small repeated electrical surges may harm the integrity of circuitry and shorten the life of appliances. Appliances with electronic controls such as key pads, electronic displays and programmable functions are particularly vulnerable to power strikes. Appliances with mechanical controls such as rotary dials and on/off switches, fare better during electrical surges.
How to stay protected? Surge protectors use the home's wiring to divert the extra voltage of a power surge to the home's electrical ground wire. Homeowners can easily install point-of-use surge protectors. These surge protectors plug into wall outlets and protect individual appliances from small electrical surges. Surge protection installed at the electrical entrance panel provides a higher level of protection for the entire house.
Are you protected?? We can help you call us at
207.641.2722
1 Year Warranty Terms Used Appliances
There is no implied warranty of merchantability nor any implied warranty for a particular purpose. There are no warranties either express or implied which extend beyond those set forth herein. Each appliance is sold AS IS and carries a limited x or replacement warranty commencing from the date of the purchase invoice. Appliance Express Used Appliances, INC shall repair the appliance, through a third party vendor, if deemend viable, (at the discretion of Appliance Express or will offer an exchange of the same value within ninety (90) days of the invoice date if the appliance fails mechanically. Customer must provide proof of purchase for warranty to be valid. Functions of the appliances that are warrantied are as follows: washers should
ll with water, agitate, spin, and drain; dryers should tumble and heat, and door switch and timer should work properly; stove clocks turn on, burners and bake/broiler elements heat; refrigerators will turn on, cool/freeze water for 24 hours. If customer requests warranty service and the problem is caused by the customer (such as a clogged drain, improperly installed water hoses, unlevel appliance, blown circuit breaker, etc.), then customer will be responsible for the cost of the service call. Customer will only receive one exchanged item for this warranty. If customer wishes to have an exchange policy on the replacement item, customer must purchase an additional warranty on that item. There are no refunds. Items such as self-cleaning mode, leveling legs, broken shelves, cosmetic items, icemakers, water dispensers, fill hoses, and any item resulting from customer's misuse are not covered under this warranty. Electronics are not covered under warranty unless a Appliance Express surge protection plan is bought ; however we recommend buying a surge protector at time of purchase to protect the electronics.
If you take your appliance home in your own vehicle, you understand that only major mechanical errors to parts such as motors, belts, timers, compressors, fans, water pumps, heating elements, and lid and door switches are covered under this warranty. If you damage the item during transit or installation, it is not the responsibility of Appliance Express to repair or replace the item.
Ice makers, water dispensers, and self-cleaning modes are not tested before purchase and are not warrantied under any circumstance.
Should Appliance Express need to make repairs, a service call will be scheduled within three (4) business days of reported mechanical failure and said repairs shall be completed within seven (7) business days from the time all parts are received by BJ. If a third party other than that ordered by Appliance Express works on your appliance, the warranty from Appliance Express is null and void. This warranty is extended to the original purchaser as set forth in the invoice and is not transferable to subsequent purchasers of the appliance. If you bring your appliance home and determine that it does not fit or you cannot get it to the appropriate spo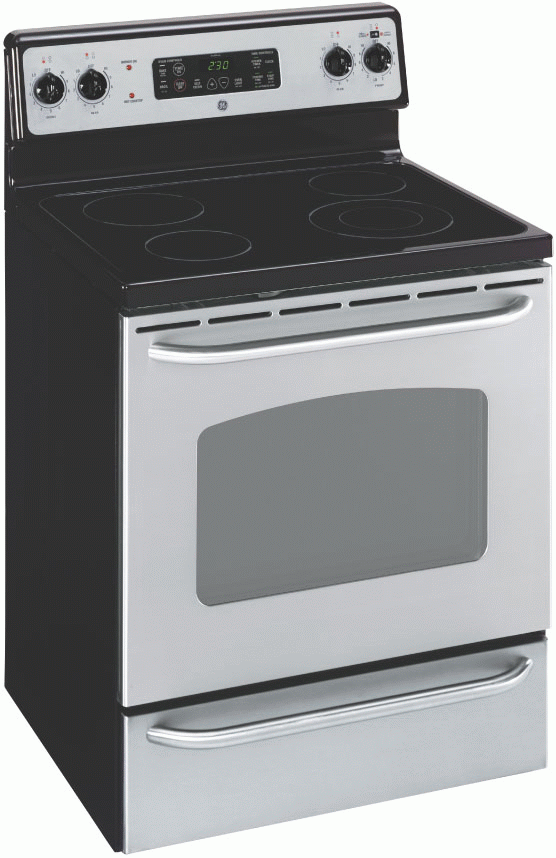 t (i.e. your hallway is too narrow for the refrigerator you just bought), Appliance Express will offer a 48 hour exchange on that item from the date of invoice. You must bring the item back to Appliance Express in good working condition for this offer to be valid. There are no refunds.
Trade-Ins - If you have a trade-in or a Appliance Express delivery team removes your old appliance, you understand that Appliance Express will attempt to repair and resell your appliance. You waive ownership of this appliance as soon as you trade it in or have it taken.
Cords - Appliance Express will make sure your appliance has the proper cord at time of purchase. It is your responsiblility to notify Appliance Express of any cord change at least 3 hours before your delivery time. If Appliance Express delivers your appliance and the cord type is incorrect, it is your responsibility to purchase the correct cord and install it at your expense. Appliance Express delivery team WILL NOT CHANGE YOUR CORD AT YOUR HOME so please be sure the correct cord at time of purchase.